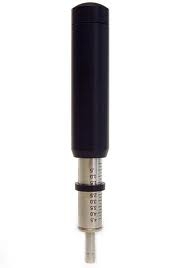 Eijkelkamp 06.03 Pocket Penetrometer
Eijkelkamp 06.03 Pocket Penetrometer used to determine the penetration resistance of top layers (measuring depth 5 mm) and of samples in the field or in the laboratory.
Measuring range 0.5 MPa.
When pushing the instrument into the ground, the pin encounters a force of the ground.
The spring is compressed by this force.
A slip ring is taken along during this operation, which shows on the scale the maximum force that has been encountered.
The scale has been calibrated in such a way that the penetration resistance that has been encountered can be read on it immediately.