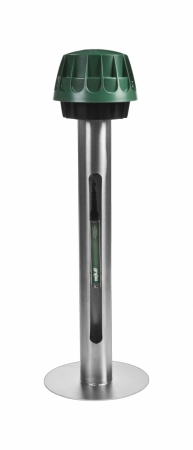 Chatter ® Battery Powered Data Logger With Modem
MJK Chatter ® Battery Powered Data Logger With Modem for monitoring and measuring of, among other things, level where no permanent power supply is available.
Contains a built-in multi-channel data logger, a GSM/GPRS modem including a battery which ensures more than 5-year life time on the battery for one call a day.
Transmits data over the internet to a Microsoft SQL data base by means of the integrated GPRS modem.
Alarm notifications through SMS. 
Housed in an impact-proof aluminium and plastic casing for mounting directly on bore holes and sounding borings where sensor, electronics and antenna are protected from vandalism.
In this configuration log- and call intervals can be preset.
Meanwhile the entire system is in hibernation mode, practically without using any electricity.
At the chosen log- and transmission time the Chatter awakens, measures and transmits the data.
Such a wake up can be as briefly as 10-15 seconds, with means the battery can last more than 5 years.
Available in an IP 67 / NEMA4 polycarbonate cabinet for wall mounting with a 230/115 V AC or 10-30 VDC supply. 
Analogue, digital and modbus inputs, a connection of new as well as existing measuring units is possible. 
To save electricity, Chatter® only supplies the connected transmitters for the time the measuring takes place, typically less than 10 seconds per measurment.
By choosing the Modbus connection, measurement signals are transferred to Chatter® with a maximum resolution, since there is no analogue-to-digital signal handling involved in the circuit.
| Technical Specification | |
| --- | --- |
| Digital Inputs | 4 pcs. 2 - 5 VDC (min. time for state 10 seconds) |
| Analog Inputs | 4 pcs. 0,1 - 2,5 VDC |
| Accuracy | Better than ± 1% for the inputs |
| Resolution | 10 bit, input impedance: min. 10 Kohm |
| Data Inputs | 1 pc. RS-485 Modbus® input for max. 4 units. Modbus® RTU-mode, 9600 baud, 2-wire RS-485, master mode for max. 4 pressure transmitters, flow transmitters or data loggers. Configuration of connected Modbus® pressure transmitters. |
| Power Supply | 2 pcs. 3,6 VDC for pressure transmitters and 1 pc. 5 VDC ON/OFF-controlled by a microcontroller. +5 VDC can be replaced by +10 or +15 VDC. |
| Interface Connector | Internal USB 1.1, type mini B, female |
| Antenna Connector | MMCX, female |
| Data Transmission | GSM/GPRS quad-band 850/900/1800/1900 MHz supporting TCP/IP. On-board SIM-card holder, TCP/IP socket connection over GPRS and Internet. |
| Memory Storage | 30.000 measured values (date and time stamped), data measurement and logging at fixed time intervals |
| Log Intervals | 10 secs, 1 – 10 min, 1, 2, 4, 8, 12 or 24 hours |
| Call Intervals | 10 min, 1, 2, 4, 8, 12 or 24 hours, 1 week |
| Power Supply | Built-in 3,6 VDC, 19 Ah lithium battery |
| Performance | 5 years@1 measurement/day and 1 call/day |
| Mounting | In tubes with inner diameter Ø2.5-4.2 in. or on wall |
| Temperature Range | - 4 °F ... +140 °F |
| Air Humidity | Max. 95% relative |
| Clock | Real-time clock with 1-sec. resolution, 24-hour clock |
| Enclosure Rating | IP 67 |
| Antenna Mounted in/on | Tube: Built-in Wall: see data sheet GB 6.3 GSM/GPRS Antennas |
| Materials Mounted in/on | Tube: PC-ASA (top) and aluminum (base) Wall: glas-reinforced PC (polycarbonate) |
| Weight | Tube mounting: 4 lbs Wall mounting: 1.6 lbs |
| Dimensions Mounted in/on | Tube: Ø7.5 x 5.9 in. (inner dia. Ø2.5-4.2 in.) Wall: 6.2 x 5.7 x 3.3 in. (W x H x D) |
| CE Approvals | EN 61000-6-2:2001, EN 61000-6-3:2001 |