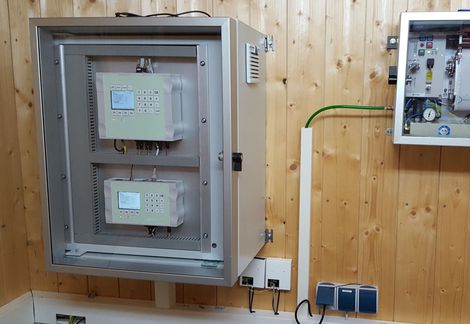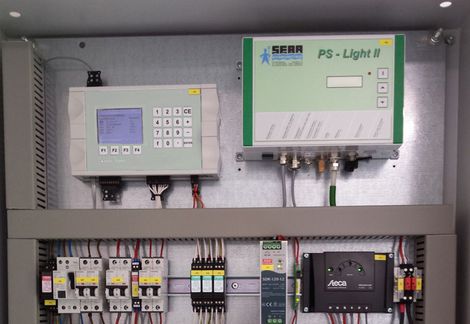 High-Performance Data logger with a total of 100 configurable analogue and digital input channels.
2GB SD Flashcard for approximately 50 Million measurements
Compact, aesthetic plastic casing for wall mounting
Large 320x240 (3,5") TFT-Colour-Display with membrane keypad for easy configuration and operation of the NetLogCom
Display of time series in graphical form (guideline, list)
Integrated measurement and error reporting system including speaker.
Integrated 3G Modem (GSM, GPRS, EDGE, UMTS, HSPA+ Modem) or 4G LTE without voice messaging
Voice-Over IP (VoIP)
Voice messaging and push operation via different networks (2G/3G)
Interface: Ethernet (TCP-IP), 2xRS232, 2xRS485, SDI-12, USB-M, USB-S
IP-Communications: FTP, SFTP, HTTP, HTTPS
Both network adapters can be used simultaneously (routing)
Smart: The NetLogCom station manager is equipped with a TFT colour display, keyboard, voice prompter, 3G/4G modem, TCP / IP interface for connecting a DSL router, numerous digital, analog and serial inputs, a generous 2GB flash memory and much more. In short: the perfect data collector, equipped with all the usual communication protocols and formats for modern, up-to-date measurement data acquisition and transmission management 4.0.
Variable: Individual requirements require tailor-made solutions. For this reason, the NetLogCom can be assembled as a modular system, depending on infrastructure and boundary conditions. Do you need even more analog or digital inputs for the connection of additional sensors? Is a redundancy concept with different transmission paths (mobile radio, fixed network) required? Should the stored data be transferred to an S7 process control system? With the NetLogCom, you will quickly discover the possibilities of an intelligent data management system.
User-friendly: The large TFT colour display and the keyboard make it very easy for the operator to configure the NetLogCom or to retrieve current status information. In addition, time series in the form of hydrographs and lists can be displayed in a clear form on the station manager;
As an alternative, it is also possible to carry out all settings and configurations relevant for the measuring point, in conjunction with a notebook or tablet PC, and with the aid of the "Configuration" operating software.
Powerful: Thanks to the powerful NXP i. MX6 processor, functions and data access on the NetLogCom run separately and can thus be processed in parallel. This also affects the processing of all interfaces; Particularly noteworthy is the integrated alarm management of the station manager in the case of exceeded limit values. Alarms can be sent by voice, SMS, e-mail, FTP, HTTP etc. The user can define how best to set various limit values, alarm channels, alarm groups and up to 32 alarm destinations.