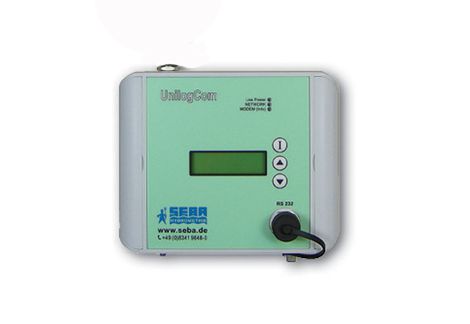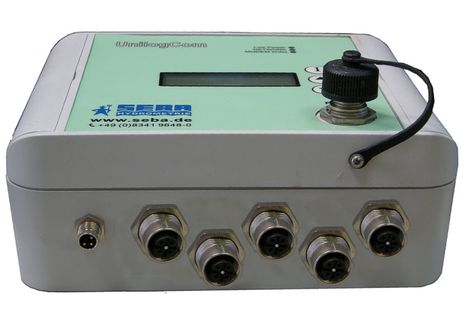 Wide-ranging applications, high capacity, multi-channel data logger with integrated cellular modem
Large 16 MB ring memory for 1,120,000 measurements
Compact plastic housing for wall mounting
Backlit LCD with three multi-function buttons to display current measured values ??and system state
Transfer Options: mobile data retrieval, FTP Push, TCP push, SMS push, SMS Alarms
Connectivity of digital and analog probes
Efficient:
The UnilogCom is especially characterised by its low energy consumption as well as by its intelligent power management. Depending on the infrastructure, the power supply can be provided over an external battery compartment (6 x 1.5 V alkaline manganese Mono D batteries), 12 V battery, solar panel or an external 230 V/12 VDC power supply unit.
Variable:
Depending on the measurement task, up to 32 logical channels can be managed by the logger. So, for example, it is possible to connect 16 digital DS(T) 22 SEBA-pressure/temperature sensors, or three MPS-D8 multiparameter sensors via the internal RS485 interface. Using an external A/D converter, one can connect up to eight analog sensors.
Smart:
Upon reaching the predefined event thresholds, e.g. in the case of a flood, the UnilogCom automatically shortens both the measurement and the transmission interval, and an alarm SMS can be sent to up to eight participants.
User-friendly:
Two APPs are available for configuration and data read-out of UnilogCom: operating software SBEAConfig (Windows) for beginners has an intuitive user interface (Wizard) for various routine tasks. SEBAConfigApp (Android, iOS) and BlueCon 2 (our Bluetooth module) are combined to facilitate configuration and data readout wirelessly with a smartphone or tablet, directly from a data logger.
Last but not least:
With the password-protected web portal SEBA Hydrocenter data is not only safe, but also accessible at any time on the road or in the office. Alternatively, there is also the possibility of simple data provision on a secure SEBA FTP server.