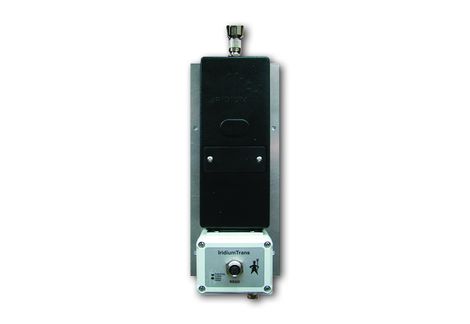 Iridium Trans (Satellite)
The Iridum Satellite Transmission System consists of currently 66 active communication satellites which enable a worldwide data transmission coverage by a Low Earth Orbit (LEO) Satellite Network. The data  transmission rate of 2400 baud is accelerated through the implementation of the compression-code AMBE (Advanced Multi Band Excitation). SEBA IRIDIUM-Trans makes use of this technology - which makes it a modern, reliable and economic data transmission system.
Monitoring stations equipped with an IRIDIUM modem can be retrieved either from a central standard PC with IRIDIUM Modem or with an IRIDIUM satellite mobile phone.
The main component is an optimized transceiver which operates like a standard modem. Almost every data logger and sensor is suitable for the connection via the RS232 port and therefore integrable with all SEBA measuring systems. The transceiver with the intelligent technique of SEBA Iridium controller is specially produced for the requirements of hydrometeorological stations which makes it a unique solution for the transmission of monitoring data from (remote) field stations.
Worldwide data transmission coverage (incl. polar regions)
Robust Iridium modem design enables data transmission under any climatic condition
Permanent data transmission possible, no time-slots (-frames)
Current data always available
Communication with all SEBA data loggers
Time- & cost-effective modem and data transmission
Low energy consumption
IRDIUM MODEM
Frequency
1616MHz to 1626,5MHz
Duplex Method
TDD (Time Domain Duplex)
Antenna Impedance
50 Ohm
Power Supply
nom. 12V (10...18VDC)
Peak Input current max.
0,5A with 12VDC
Power

- during transmission: 7W (max)

- during reception: 0.6W

Connectors
DC-Power, RS232
Antenna Connector
50 Ohm TNC-connector
SIM Chip
SIM-Slot integrated
Operation Temperature
-20°C to +60°C
Humidity
< 85% realtiv humidity without protection housing. 100% with protection housing
Storage Temperature
-40°C to +85°C
Protection Class
IP54