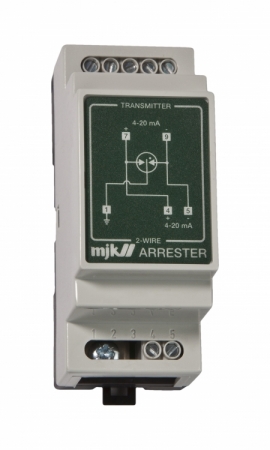 Surge And Lightning Protectors
MJK Surge And Lightning Protectors used in applications where excessive voltages caused by lightning or other transient voltage can be expected.
MJK Surge Arresters are constructed with dual protection to cover both medium and high surge protection.
Available in Surge Arrester 2- Wire Panel, Surge Arrester 2- Wire Field, Surge Arrester 3- Wire Panel, Surge Arrester 3- Wire Field, Surge Arrester RS 485 Line Panel, Surge Arrester 230 VAC Panel Mains Arrestor, Surge Arrester PSTN Terminal Connections Panel, Surge Arrester PSTN RJ 11 Connector Panel, Surge Arrester 3- Wire Panel RS232, Surge Arresters For Magflux For Wall Mounting and Surge Arresters For Magflux For Sensor Mounting
Protects measuring devices from damage by conducting large power surges and short transients effectively to ground.
Units for protecting of 2-wire / 4 - 20 mA, 3-wire / 4 - 20 mA and telephone lines is available.
Surge and transient protection in accordance with Class B (intermediate protection) and Class C (primary protection).
Protection of telelephone lines in regions with lightning.
Protection of 4 - 20 mA transmitters installed at high / distant locations.
Protection of 3-wire ultrasonic level meters installed at high locations in regions where lightning often occurs.
DIN-rail mounting (Panel) or on site mounting (Field).
Surge Arrester for 2-wire Connection
Input
4 - 20 mA
Output
4 - 20 mA
Recommended ground wire gauge
min. A.W.G.
Max. forward voltage / forward resistance
30 V DC / < 50 Ω
Max. discharge current
20 kA
Temperature
- 5 … + 140 °F
Enclosure

Panel: NEMA 1

Field: NEMA 4X

Mounting

Panel: DIN rail

Field: Wall or bracket
Surge Arrester for 3-wire Connection
Input
4 - 20 mA
Output
4 - 20 mA
Recommended ground wire gauge
min. A.W.G. 11
Max. forward voltage / forward resistance
30 V DC / <2 x 50 Ω
Max. discharge current
20 kA
Temperature
- 5 … + 140 °F
Enclosure

Panel: NEMA 1

Field: NEMA 4X

Mounting

Panel: DIN rail

Field: Wall or bracket
| Surge Arrester for Communication Line | |
| --- | --- |
| Input | From modem or serial port |
| Output | From communications line |
| Recommended ground wire gauge | min. A.W.G. 11 |
| Max. forward voltage / forward resistance | 170 V for 200186 and 200187, 13 V for 200184 / < 50 Ω |
| Max. discharge current | 20 kA |
| Temperature | - 5 … + 140 °F |
| Enclosure | IP 22 |
| Mounting | DIN rail |