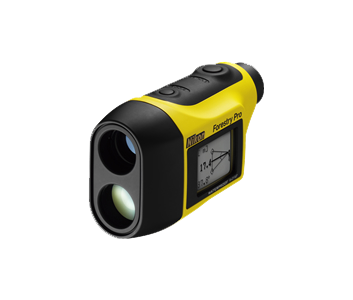 Nikon Forestry Pro Laser Rangefinder/Hypsometer
Provided with a clear line of sight to a point on the stem, the unit calculates horizontal distance, then captures two other points to create an angle, and accurately calculates height.

The Forestry PRO features 6x magnification and provides several measurement readout options including actual distance, angle compensated distance (horizontal distance), angle (degrees), and height.

Results are displayed in yards, meters, or feet.

The Forestry PRO is waterproof and comes complete with a field case, quick start guide, and battery.

Range: 11 to 550 yds.; 10 to 500m; 33 to 999 ft.

Resolution: 0.5 yds.; 0.5m; 1 ft.

Accuracy: ±1/2 yd. out to 99 yds.; ±1 yd. from 100 to 550 yds.

Power: one 3V CR2 battery (included).
| | |
| --- | --- |
| Measurement range | Distance: 10-500 m/11-550 yd./33-999 ft.(*999 ft.: 304.5 m/333 yd.) Angle: ±89° |
| Distance display | [Internal Display] Act (Actual Distance): every 0.5 m/yd., 1.0 ft. (shorter than 100 m/yd./ft.) every 1.0 m/yd., 1.0 ft. (100 m/yd./ft. and over) Hor (Horizontal Distance) and Hgt (Height): every 0.2 m/yd., 0.5 ft. (shorter than 100 m/yd./ft.) every 1.0 m/yd., 1.0 ft. (100 m/yd./ft. and over) Ang (Angle): every 0.1° (less than 10°) every 1.0°(10° and over) *Downward angle from the horizontal line: displayed as "-" [External Display] Act (Actual Distance): every 0.5 m/yd., 1.0 ft. Hor (Horizontal Distance) and Hgt (Height): every 0.2 m/yd., 0.5 ft. Ang (Angle): every 0.1° |
| Finder Magnification (x) | 6 |
| Finder Effective objective diameter (mm) | 21 |
| Finder Actual field of view (°) | 6.0 |
| Finder Exit pupil (mm) | 3.5 |
| Finder Eye relief (mm) | 18.2 |
| Dimentsions (L x H x W) (mm) | 130 x 69 x 45 |
| Weight (g) | 210 |
| Power source | CR2 lithium battery x 1 (DC3V) Auto power shutoff function equipped (after approx. 30 sec.) |
| Safety | Safety: Class 1M Laser product (EN/IEC60825-1:2007), |
| EMC | FCC Part15 SubPartB class B, EU:EMC directive, AS/NZS, VCCI class B |
| Environment | RoHS, WEEE |