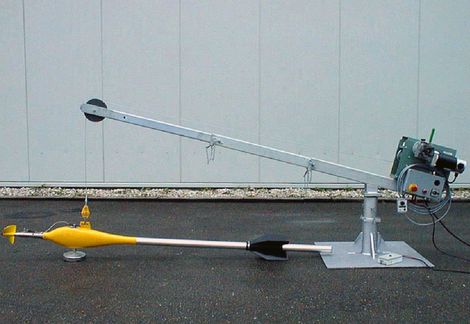 Bridge cantilever made of aluminum for mobile flow measurement with SEBA single winch type SEWII and water impellor equipment 5 kg-50 kg
Transport dimensions: 130x54x30 cm
Adaptable to different widths of bridge railing
Simple construction, quick operational readiness:
Next to the bridge cantilever, the setup consists of SEBA single winch type SEWII and cable suspended current meter equipment with maximum 50kg load weight. The operational readiness can be prepared in a few minutes. For this, the bridge cantilever is flipped open, adapted to the bridge railing by means of an adjustment arm and fixed with "crash-proof" tightening straps. A support rod stabilizes the cantilever and allows the adaptation of the SEWII. Subsequently, the load weight of the suspended cable meter equipment is attached to the measuring cable of the winch. Now, the flow measurement can begin.
Sophisticated mechanics:
The ready-to-use bridge cantilever comes equipped with a sophisticated mechanism, which enables the field crew to easily pivot the load weight with theimpellor over the bridge railing and lower it into the desired position. After measurement in the vertical position, the weight can be lifted again and planted on the bridge railing by means of the pivot arm. For measurement at the next plumb line, the bridge cantilever is simply moved into a new position on the railing by means of hard rubber rollers. After the measurement, the bridge cantilever can be folded and conveniently transported to the next measuring point.