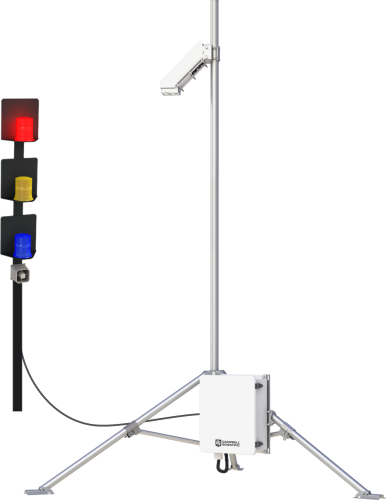 LW110 Lightning Warning System
The basic LW110 Lightning Warning System requires a CS110 Electric Field Meter, an embedded CR1000M Measurement and Control Datalogger and a pre-wired 14-inch-by-16-inch fibreglass enclosure.
CS LW110 Lightning Warning System f

irst strike warning--senses potential for lightning

"All clear" notice when the lightning threat has passed

Up to 7-mile detection radius

Visual and audible alarms

PC, web, and email alarms when communication is added

Optional SG000 detects strikes up to 20-mile radius and can be added to create a complete lightning-threat measurement and analysis system

Optional meteorological sensors for expanded weather monitoring and logging

Rugged construction

Low power consumption

Low maintenance—extensive diagnostics lets you know when maintenance is needed
The LW110 provides continuous monitoring of local electric field and triggers warnings when there is potential for lightning. Because warnings are based on measurements of electric field, instead of prior strikes, the system can detect lightning danger, even when no other strikes have occurred.
By measuring the electric field at your location, the LW110 can be relied upon to remove the guesswork from critical decisions: 1) when to seek shelter as a storm approaches and 2) when it's safe to resume activities as a storm passes.
An optional optical strike detection device can be added to give a 'best of both worlds' warning system.
Example Configuration:
CS110 Electric Field Meter
CM10/3 3 m Galvanized-Steel-Tubing Instrument Tripod
ENC14/16 Enclosure
7 Ahr Battery with AC Power
RA100 Strobe & Siren Alarm
Customisations
The LW110 is customizable, allowing you to configure the station to your project's specifications while retaining turn-key functionality. The following components are alternatives or additions to the above configuration:
Lightning Detector
SG000 Strike Guard Lightning Sensor
Meteorological Sensors
Temperature & Relative Humidity
HMP60 Temperature and Relative Humidity Probe
HC2S3 Temperature and Relative Humidity Probe
Wind Speed & Direction
Solar Radiation / Barometric Pressure / GPS
CS100 Barometric Pressure Sensor
GPS16X-HVS GPS Receiver
Precipitation
ARG100 Rain Gauge
52203 Rain Gauge
Communication
Ethernet
NL200 Network Link Interface
Fibre
FC100 Fibre Optic Converter
Radio
RF416 Spread Spectrum radio
GPRS comms options, please call for more information
Alarms
RA100 Strobe & Siren Alarm, (<61 m away)
RA110 Remote Strobe & Siren Alarm (>61 m away)
Computer- or web-based alarms
Email
Text (SMS)