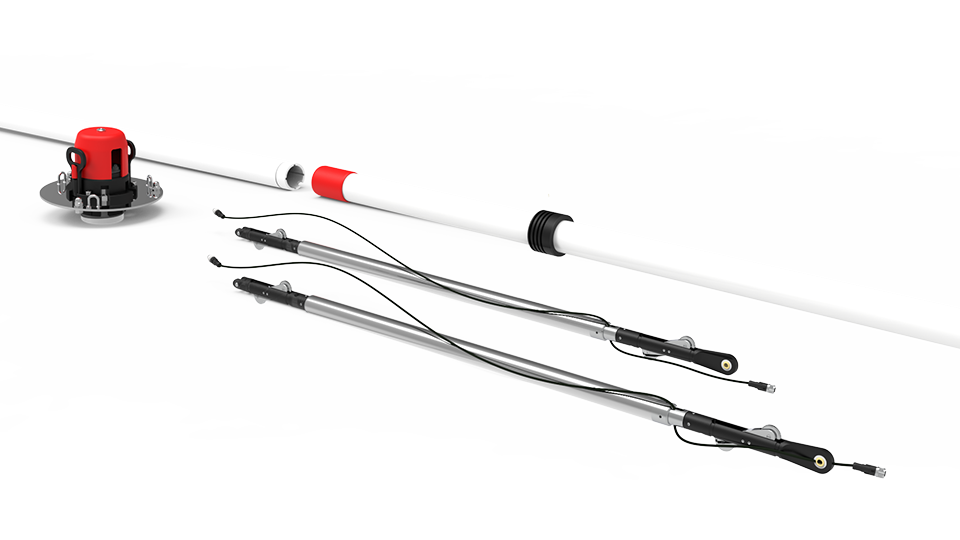 DEX and DEX-S 3D extensometer
In-place extensometers are used in conjunction with flush-coupled ABS inclinometer casing for the measurements of settlement or heave.

Sisgeo DEX Extensometers And DEX-S Extenso-Inclinometer d

esigned to be left inside the casing to permit automatic or continuous monitoring.

Strings of in-place extensometer sensors are joined together with stainless steel wire.

The sensors can be located at different depths where the settlement occurs.

Equipped with biaxial tilt sensor is also available for 3-D borehole profile monitoring.

ADK-10 datalogger provides automatic monitoring and by means of GSM module it is also possible to have on-line monitoring of unattended locations.
| | | |
| --- | --- | --- |
| PRODUCT CODES | 0DEX35S115D | 0DEX35S130D |
| SETTLEMENT SENSOR | | |
| Sensor type | high performance contactless displacement transducer | high performance contactless displacement transducer |
| FS and Measuring range | 100 mm (±50 mm) | 100 mm (±50 mm) |
| Sensor resolution (with OMNIAlog datalogger) | 0.0001mm (with OMNIAlog datalogger) | 0.0001mm (with OMNIAlog datalogger) |
| Sensor repeatability | 0.007 mm | 0.007 mm |
| Sensor 24 hours stability (1) | ±0.06 mm | ±0.06 mm |
| Sensitivity (2) | See Calibration Report | See Calibration Report |
| Sensor accuracy: Lin. MPE(3) | < ±0.30% FS (< ±0.30mm) | < ±0.30% FS (< ±0.30mm) |
| Sensor accuracy:Pol. MPE (3) | < ±0.25% FS (< ±0.25mm) | < ±0.25% FS (< ±0.25mm) |
| | | |
| TILT SENSOR | | |
| Sensor type | biaxial MEMS inclinometer | biaxial MEMS inclinometer |
| Measuring range | ±10°, ±15° | ±20°, ±30° |
| Sensor resolution | 0.00056° (reading frequency 2 Hz) | 0.00056° (reading frequency 2 Hz) |
| Sensor mechanical bandwidth | 18 Hz | 18 Hz |
| Sensor repeatability | 0.002° | 0.002° |
| Sensitivity (2) | See Calibration Report | See Calibration Report |
| Sensor accuracy: Lin. MPE(3) | < ±0.030% FS | < ±0.100% FS |
| Sensor accuracy:Pol. MPE (3) | < ±0.015% FS | < ±0.020% FS |
| Sensor 24 hours stability (1) | < ±0.07 mm / m (A-axis) | < ±0.07 mm / m (A-axis) |
| Offset temperature dependancy | ±0.002° / °C | ±0.002° / °C |
| TEMPERATURE SENSOR (4) | Embedded on electronic board | Embedded on electronic board |
| Measuring range | - 40°C to +125°C | - 40°C to +125°C |
| Accuracy | ±1°C with temperature range -10°C to +85°C | ±1°C with temperature range -10°C to +85°C |
| HUMIDITY SENSOR (4) | Embedded on electronic board | Embedded on electronic board |
| Measuring range | 0 to 100% RH | 0 to 100% RH |
| Accuracy | ±5% RH with humidity range 0 to 95% RH | ±5% RH with humidity range 0 to 95% RH |
| SUPPLY VOLTAGE MONITOR (4) | Embedded on electronic board | Embedded on electronic board |
| Measuring range | 0 to 36 V | 0 to 36 V |
| Accuracy | ±5% FS | ±5% FS |
| | | |
| ELECTRICAL INFORMATION | | |
| Signal output | RS-485 with Modbus RTU protocol (5) | RS-485 with Modbus RTU protocol (5) |
| Power supply | from 12 to 24 V dc - default powering set up is TIMED (6) | from 12 to 24 V dc - default powering set up is TIMED (6) |
| Average consumption | 70 mA @ 24 Vdc, 145 mA @ 12 Vdc | 70 mA @ 24 Vdc, 145 mA @ 12 Vdc |
| Max cable length to logger | 1000 m (for more information see F.A.Q.#077 on Sisgeo web site) | 1000 m (for more information see F.A.Q.#077 on Sisgeo web site) |
PRODUCT CODES
0DEX350100D
0DEX350500D
0DEX351000D
SETTLEMENT SENSOR
Sensor type
high performance contactless displacement transducer
high performance contactless displacement transducer
high performance contactless displacement transducer
FS and Measuring range
100 mm (±50 mm)
500 mm (±250 mm)
1000 mm (±500 mm)
Sensor resolution (with OMNIAlog datalogger)
0.0001 mm
0.0001 mm
0.0001 mm
Sensor repeatability
0.007 mm
N/A
N/A
Sensor 24 hours stability (1)
±0.06 mm
N/A
N/A
Sensitivity (2)
See Calibration Report
See Calibration Report
See Calibration Report

Sensor accuracy: Lin. MPE(3)

Pol. MPE(3

< ±0.30% FS (< ±0.30 mm)

< ±0.25% FS (< ±0.25 mm)

< ±0.10% FS (< ±0.5 mm)

< ±0.08% FS(< ±0.4 mm)

< ±0.10% FS (< ±1.0 mm)

< ±0.08% FS(< ±0.8 mm)

TEMPERATURE SENSOR (4)
Embedded on electronic board
Embedded on electronic board
Embedded on electronic board
Measuring range
- 40°C to +125°C
- 40°C to +125°C
- 40°C to +125°C
Accuracy
±1°C with temperature range -10°C to +85°C
±1°C with temperature range -10°C to +85°C
±1°C with temperature range -10°C to +85°C
HUMIDITY SENSOR (4)
Embedded on electronic board
Embedded on electronic board
Embedded on electronic board
Measuring range and accuracy
0 to 100% RH / ±5% RH (within 0 to 95% RH)
0 to 100% RH / ±5% RH (within 0 to 95% RH)
0 to 100% RH / ±5% RH (within 0 to 95% RH)
SUPPLY VOLTAGE MONITOR (4)
Embedded on electronic board
Embedded on electronic board
Embedded on electronic board
Measuring range and accuracy
0 to 36 V / ±5% FS
0 to 36 V / ±5% FS
0 to 36 V / ±5% FS
ELECTRICAL INFORMATION
Signal output
RS-485 with Modbus RTU protocol (5)
RS-485 with Modbus RTU protocol (5)
RS-485 with Modbus RTU protocol (5)
Power supply
from 12 to 24 V dc - default powering set up is TIMED (6)
from 12 to 24 V dc - default powering set up is TIMED (6)
from 12 to 24 V dc - default powering set up is TIMED (6)
Average consumption
68 mA @ 24 Vdc, 140 mA @ 12 Vdc
68 mA @ 24 Vdc, 140 mA @ 12 Vdc
68 mA @ 24 Vdc, 140 mA @ 12 Vdc
Max cable length to logger
1000 m (for more information see F.A.Q.#077 on Sisgeo web site)
1000 m (for more information see F.A.Q.#077 on Sisgeo web site)
1000 m (for more information see F.A.Q.#077 on Sisgeo web site)