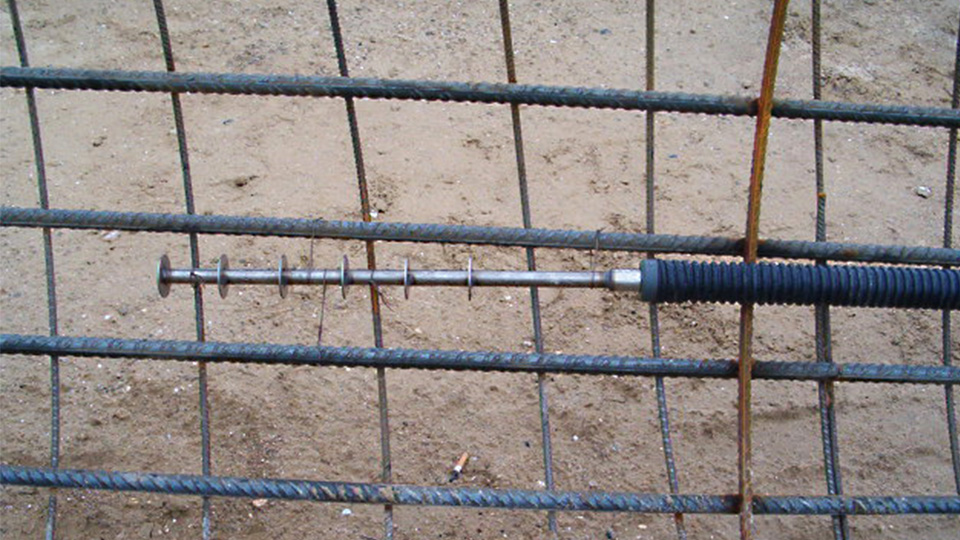 Sisgeo Fixed Extensometers d

efined as device placed in embankment fill or inside borehole for monitoring of settlement or heave between two points without use of a removable probe.

Either the Settlement Platform and the Tell-Tale extensometer are based on a riser settlement rod which is respectively connected to a plate buried at the embankment foundation level or grouted inside borehole as a deep benchmark in a firm soil.

Optical levelling measurements to the top of the riser rod provide precise monitoring.

Electrical transducer can be used for remote readings without the need of survey crew.
| | | |
| --- | --- | --- |
| | MEASURING ROD 0D100A20000 | CORRUGATED SHEATH 0D111PV5500 |
| Outer diameter | 25 mm | 55 mm (nominal) |
| Section length | 2000 mm | supplied in roll |
| Type of junction | external couplings (M25 thread) | continuos (self-screwing connection) |
| Material | stainless steel | PVC |
| | | |
| | MEASURING HEAD 0D100TT0100 | BOTTOM ANCHOR 0D100TT6000 |
| Description | Protective cap and leveling pin for topographic surveying | Grouting bottom reference anchor |
| Outer diameter | 102 mm | 60 mm |
| Length | 550 mm | 600 mm |
| Material | stainless steel and PVC | stainless steel |
| | | |
| --- | --- | --- |
| | MEASURING ROD 0D100A20000 | CORRUGATED SHEATH 0D111PV5500 |
| Outer diameter | 25 mm | 55 mm (nominal) |
| Section length | 2000 mm | supplied in roll |
| Type of junction | external couplings (M25 thread) | continuos (self-screwing connection) |
| Material | stainless steel | PVC |
| | | |
| | BOTTOM ANCHOR 0D100TT6000 | MEASURING HEAD 0D100TTEL10 |
| Description | Grouting bottom reference anchor | Protective cap rady for DTM displacement transducer |
| Diameter | 60 mm | 102 |
| Length | 600 mm | 400-650-1150 |
| Material | stainless steel | stainless steel |
| | | | |
| --- | --- | --- | --- |
| DTM DISPLACEMENT TRANSDUCER | 0DTM0AE0250 | 0DTM0AE0500 | 0DTM0AE01000 |
| Nominal range | 250 mm | 500 mm | 1000 mm |
| Measuring range | 210 mm | 460 mm | 960 mm |
| Linearity | ± 0.05 % FS | ± 0.05 % FS | ± 0.05 % FS |
| Repeatability | < 0.08 mm | < 0.08 mm | < 0.08 mm |
| Hysteresis | ≤ 0.25 mm | ≤ 0.25 mm | ≤ 0.25 mm |
| Signal output | 4-20 mA (current loop) | 4-20 mA (current loop) | 4-20 mA (current loop) |