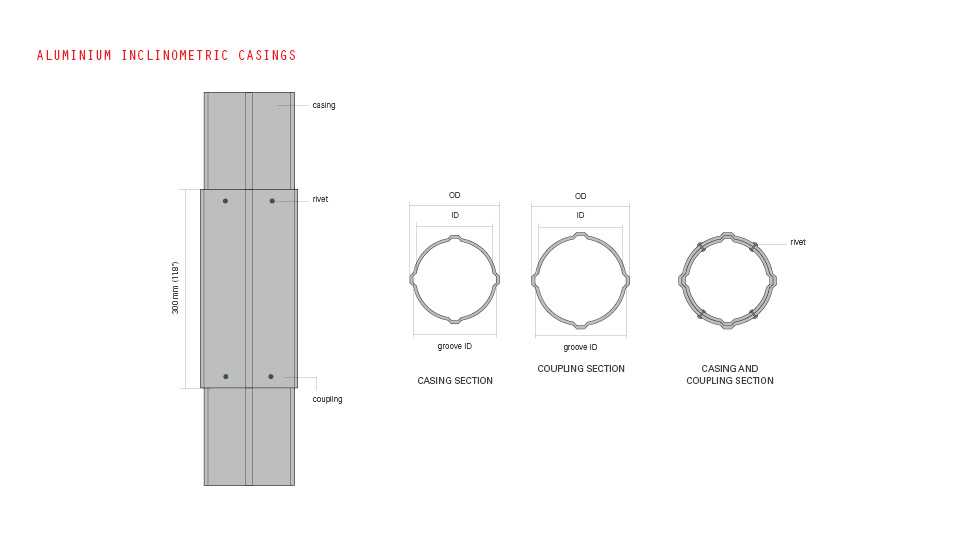 Sisgeo Inclinometer Casing a

 special grooved tube, generally installed into a drillhole, used in conjunction with inclinometer system to determine sub-surface ground or horizontal soil movements.

Performs the functions: it reflects deformations of soil or rock into which it is installed or in structures to which it is attached; it provides a precise casing for the operation of the inclinometer probe in the determination of inclination changes; its internal grooves provide orientation reference for the inclinometer probe.

Produced in different materials: aluminium, fibreglass and plastic (ABS Acrylonitrile-Butadiene-Styrene).
| | | | |
| --- | --- | --- | --- |
| PRODUCT CODE | 0S13100603M | 0S13100610F | 0S131MF6000 |
| Description | metric red stripe casing | English red stripe casing | coupling for red stripe casing |
| Material | ABS (Acrylonitrile-Butadiene-Styrene) | ABS (Acrylonitrile-Butadiene-Styrene) | ABS (Acrylonitrile-Butadiene-Styrene) |
| Outer diameter (OD) | 71 mm (2.8") | 71 mm (2.8") | 77 mm (3.0") |
| Inner diameter (ID) | 60 mm (2.4") | 60 mm (2.4") | 67 mm (2.6") |
| Groove ID | 65 mm (2.6") | 65 mm (2.6") | 71.5 mm (2.8") |
| Thickness | 3.75 mm (0.15") | 3.75 mm (0.15") | 5 mm (0.2") |
| Length | 3 meter | 10 feet | 200 mm (7.9") |
| Casing weight | 2.1 kg | 4.6 lb | 0.20 kg (0.44 lb) |
| Spiral | < 0.6° / 3 m | < 0.61° / 10 feet | - |
| Suggested borehole drilling diameter | 101 mm (4") | 101 mm (4") | - |
| Temperature (max 1 hour) | +80°C (176 °F) | +80°C (176 °F) | - |
| | | |
| --- | --- | --- |
| PRODUCT CODE | 0S111007500 | 0S111005400 |
| Description | 76 mm (3") ID casing | 49 mm (2") ID casing |
| Material | Aluminum | Aluminum |
| Outer diameter (OD) | 87 mm (3.4") | 58 mm (2.3") |
| Inner diameter (ID) | 76 mm (3.0") | 49 mm (2.0") |
| Groove inner diameter | 83 mm (3.4") | 54 mm (2.1") |
| Thickness | 2 mm (0.08") | 2 mm (0.08") |
| Casing length | 3 meter (9.9 ft) | 3 meter (9.9 ft) |
| Casing weight | 4.2 kg (9.3 lb) | 2.8 kg (6.1lb) |
| Spiral | < 1.0° / 3 m | < 1.0° / 3 m |
| Suggested borehole drilling diameter | 127 mm (5") | 101 mm (4") |
| | | |
| --- | --- | --- |
| PRODUCT CODE | 0S111MF7500 | 0S111MF5400 |
| Description | Coupling for 76 mm casing | Coupling for 49 mm casing |
| Material | Aluminum | Aluminum |
| Outer diameter (OD) | 92 mm (3.6") | 62.6 mm (2.5") |
| Inner diameter (ID) | 81 mm (3.2") | 54.2 mm (2.1") |
| Groove inner diameter | 87.5 mm (3.4") | 59.2 mm (2.3") |
| Thickness | 2.25 mm (0.09") | 1.7 mm (0.07") |
| Length | 300 mm (11.8") | 300 mm (11.8") |
| Weight | 0.50 kg (1.1 lb) | 0.25 kg (0.55 lb) |