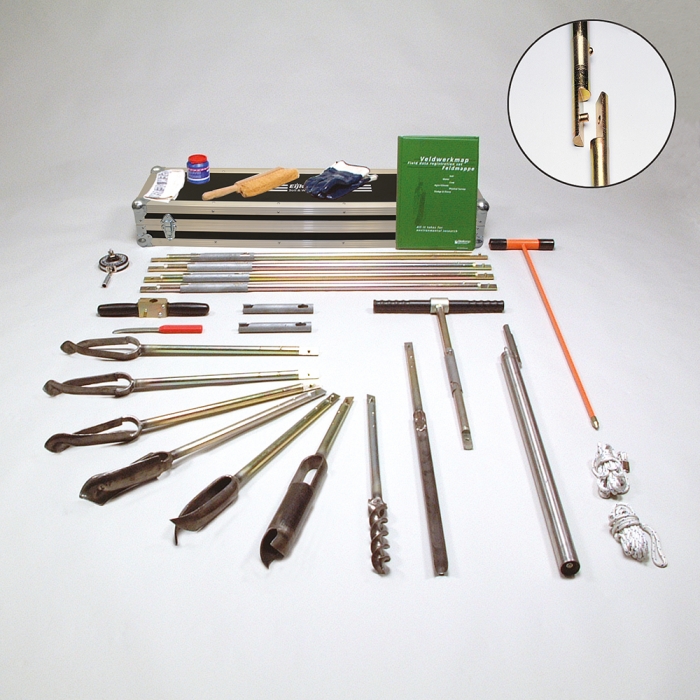 01.11.SO Auger Set For Heterogeneous Soils
Auger set for heterogeneous soils, the standard set for augering to a depth of 5 m. With unpainted augers for environmental research
Augering and samplings in heterogeneous soils (soils with a layered soil profile) can be executed with the composition of different auger types.

Manual augering to a depth of 5 m.

The combinations of different auger types (diameter 7 cm) make it successfully to be used in augering layered soil profiles.

Eijkelkamp 01.11.SO Auger Set For Heterogeneous Soils u

sed for augering above the water table in all soils, and below the water table in cohesive soils.

Comprises four types of Edelman augers (clay-, sand-, coarse sand and combination type), a Riverside auger, a stony soil auger, a spiral auger, a piston sampler and a gouge auger.

Additionally contains extension rods, a fibreglass utility probe, a sounding device with measuring tape, a push-/pull handle, maintenance equipment and a field data registration set.

The complete set is delivered in an aluminium transport case.

Standard bayone

t connection or a conical screw thread connection.
| | |
| --- | --- |
| Connection | bayonet |
| Drilling diameter | 7 cm |
| Maximum sample depth | 5 m |
| Product material | iron, other material |
| Sample length | 10 cm |
| Sample specification | disturbed |
| Sampler position | vertical |
| Package size | 117 x 27 x 23 cm |
| Weight | 33 kg |
| Applications | Soil profile description and classification, Soil sampling above the groundwater table, Soil sampling below the groundwater table, Archaeological soil research |