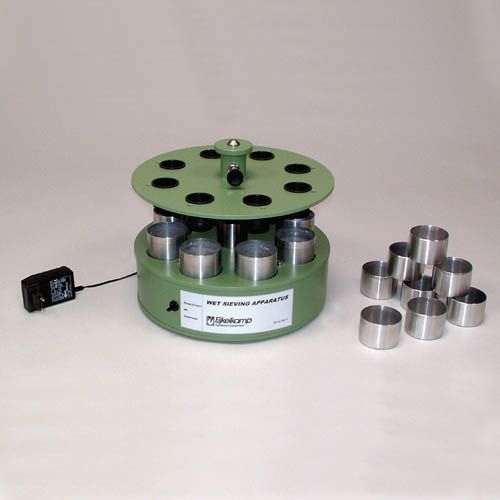 08.13 Wet Sieving Apparatus
Wet sieving method, complete set to determine the aggregate stability of soil
The testing procedure results in an index for aggregate stability.
Eijkelkamp 08.53 Calcimeter the standard set includes a shaking machine for wet sieving method (incl. 100-240 VAc adapter), suitable for 8 sieves, stainless steel Ø 64x45 mm, sieve cans Ø 39x39 mm with sieve opening 0.250 mm and sieve surface of 10.2 cm2.
Optional are sieves with various openings 2,0 - 0.045 mm.
Determined on the principle that unstable aggregates will break down more easily than stable aggregates when immersed into water.
8 sieves are filled with a certain amount of soil aggregates to determine the stability.
These sieves are placed in a can filled with water, which will move up and downward for a fixed time.
Unstable aggregates will fall apart and pass through the sieve and are collected in the water-filled can underneath the sieve.
| | |
| --- | --- |
| Maximum number of samples | 8 |
| Measured parameters | Aggregate stability |
| Measuring range | 0 - 100% |
| Power supply | line voltage |
| Reading accuracy | Depending on weighing equipment |
| Sample specification | disturbed |
| Voltage | 110 - 240 volt |
| Applications | Soil physical laboratory research, Erosion research, Soil stability research |