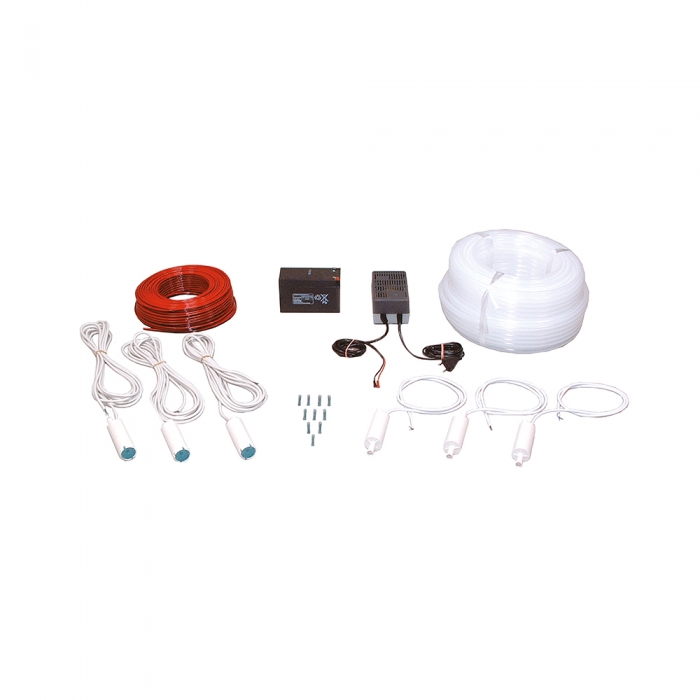 12.12.SA Submersible Pump Set, Low-Cost
This low cost submersible pump set is suitable for use in monitoring wells with a diameter of minimal 40 mm. The set includes three submersible pumps "Gigant", three booster pumps, a roll of extension cable, sealed crimp splices (to make a waterproof cable extension), a roll of polyethylene sampling tube and a battery with battery charger. Both pumps are small centrifugal pumps with small but powerful motors. This allows them to fit in narrow monitoring wells. The Gigant pump can push water to a height of 10 meter. The Booster pumps have the samecapacity and can be applied as boosters.
By fitting one or more Booster pumps directly over a Gigant pump the pressure can be raised to 20, 30 or more meter. The pumps can be used for purging a new sampling filter. Connecting the pumps to the regulator of the peristaltic pump 12 Vdc allows for setting a relaxed speed. This allows the pumps to be used also for taking samples (the regulator can power a maximum of two pumps with a maximumsampling depth of approx. 12 meter). The low price of the pumps makes it possible to use them only once. This prevents the risk of cross-contamination.The pumps are made from non-toxic ABS plastic and are fitted with a stainless steel impeller.
Benefits Submersible pump set
Stainless steel impeller + unbreakable ABS housing
Giant type (12.12.06) fitted with bottom filter
Booster type (12.12.08) for in-line placement between 10 x 12 or 12 x 16 mm tubing
Use 1 Giant pump with 1 (this set), 2, 3 or 4 booster pumps to go 10, 20, 30 or 40 m deep
Large flow capacity, ideal for purging
Connect with 12 VDC battery for 14 m lift (2 pumps)
Connect with 18 Volt for lift of 22m (2 pumps)
Can also be powered and speed regulated from peristaltic pump 12 VDC (limited max lift)
Can be re-used for metal analyses
| | |
| --- | --- |
| Fit for silt loaden water | Yes |
| Maximum sample depth | 14 m |
| Sample diameter | 40 mm |
| Maximum pumping capacity | 8 L/min |
| Power supply | battery |