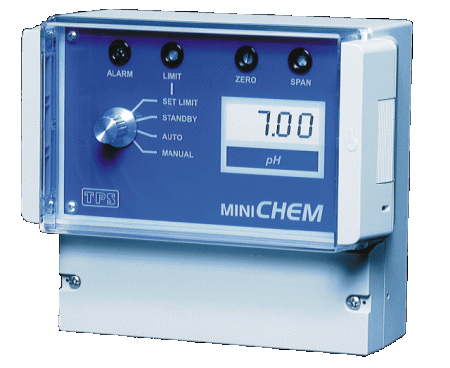 Waterproof Enclosure
Easy to Install
Easy to Use
4-20mA and 0-1 DC Outputs
Optional Relay Output
Australian Made
All miniCHEM units are easy to install. The enclosure is waterproof to IP65, so a separate cabinet is not required. All controls can be accessed via the hinged, clear cover. The large LCD display is easy to read, even from a distance.
The miniCHEM series is designed for maximum flexibility. Current and voltage outputs are provided as standard. A relay output is optionally available. The front panel alarm lamp provides clear visual indication when the control limit has been exceeded.
The miniCHEM series is the best value for money range of process monitors available today. They are ideal for industry, swimming pools, reverse osmosis, aquaculture, and general process monitoring and control.
For a total solution to your control requirements, TPS also offers a peristaltic pump, the easyFLOW-VS.
The miniCHEM series is proudly designed and manufactured in Australia. The TPS Quality System has been certified in accordance with AS/NZS ISO9001 standards. You can always be assured of the best quality, service and value for money.
Ranges
0 to 199.9 % Saturation
OR 0 to 19.99 ppM (mg/L) (Factory-set)
Resolution
0.1 % Saturation
OR 0.01 ppM (mg/L)
Accuracy
+/-0.2% of full scale
Linearity
+/-0.1%
Repeatability
+/-0.2%
Ambient Drift
<0.02 %/oC
Long Term Drift
<0.2% per year
Enclosure
Polycarbonate, waterproof to IP65
Display
12.5mm LCD
Outputs
4 to 20 mA (500 Ohms max load)
0 to 1 V DC (0 to 10 V DC optional)
Isolation
Galvanic isolation of sensor input
Current and voltage outputs are not isolated
Power
220/240 V AC, 50/60Hz
(110/120 V AC available)
12V DC power optional.