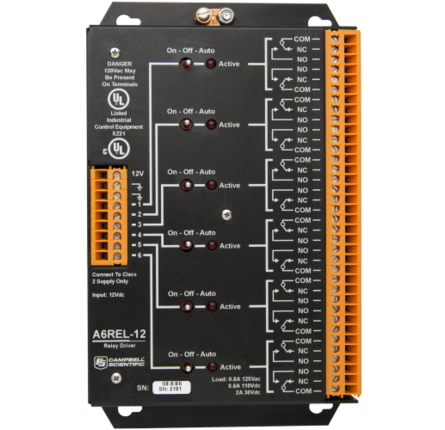 A6REL-12 6-Channel Relay Driver w/ Manual Override
You can control up to 12 external ac or dc devices using the six internal relays of the A6REL-12. Each relay set can be controlled manually or by a data logger.
The A6REL-12's internal relays are dual single-pole double-throw. Each of the six relays has a three position toggle switch; "on" and "off" for manual override, and "auto" for data logger control. In the on position, the common and normally open contacts are shorted. In the auto position, the state of a relay is controlled by a data logger control port.
A6REL-12's with serial numbers 1445 and higher are UL-approved.
Function
Controls up to 12 external ac or dc devices.
Number of Channels
6
Operating Voltage
12 Vdc nominal (8.4 to 24 Vdc)
Current Drain at 12 Vdc

6 µA quiescent
30 mA per active LED (switch ON or AUTO active)

Toggle Switch
ON/OFF manual override; AUTO for data logger control
Relays
dual single pole double throw, break before make
Contact Material
Gold-clad silver
Coil Resistance
720 Ω ±10%
Contact Ratings

2 A (@ 30 Vdc)
0.6 A (@ 125 Vac)

Release/Actuation Time
~3 ms
Operating Temperature
-40° to +70°C
Standards

Underwriters Laboratories (UL) listed product (E162021)
Canadian Underwriters Laboratories (CUL) listed product (5Z21)

Dimensions
22.4 x 13.9 x 4.1 cm (8.8 x 5.5 x 1.6 in.) including switches and mounts
Weight
635 g (1.4 lb)
Expected Life (contact closures)
Mechanical
108
Electrical

5x105 (2 A at 30 Vdc)
2x106 (1 A at 30 Vdc )