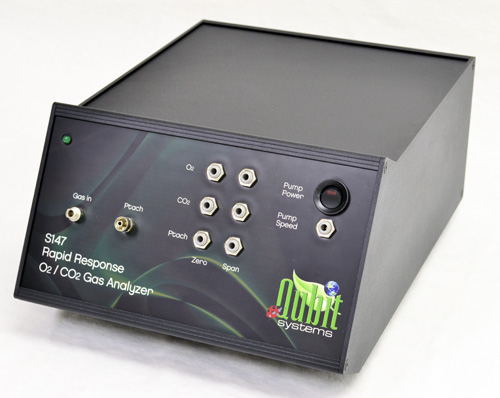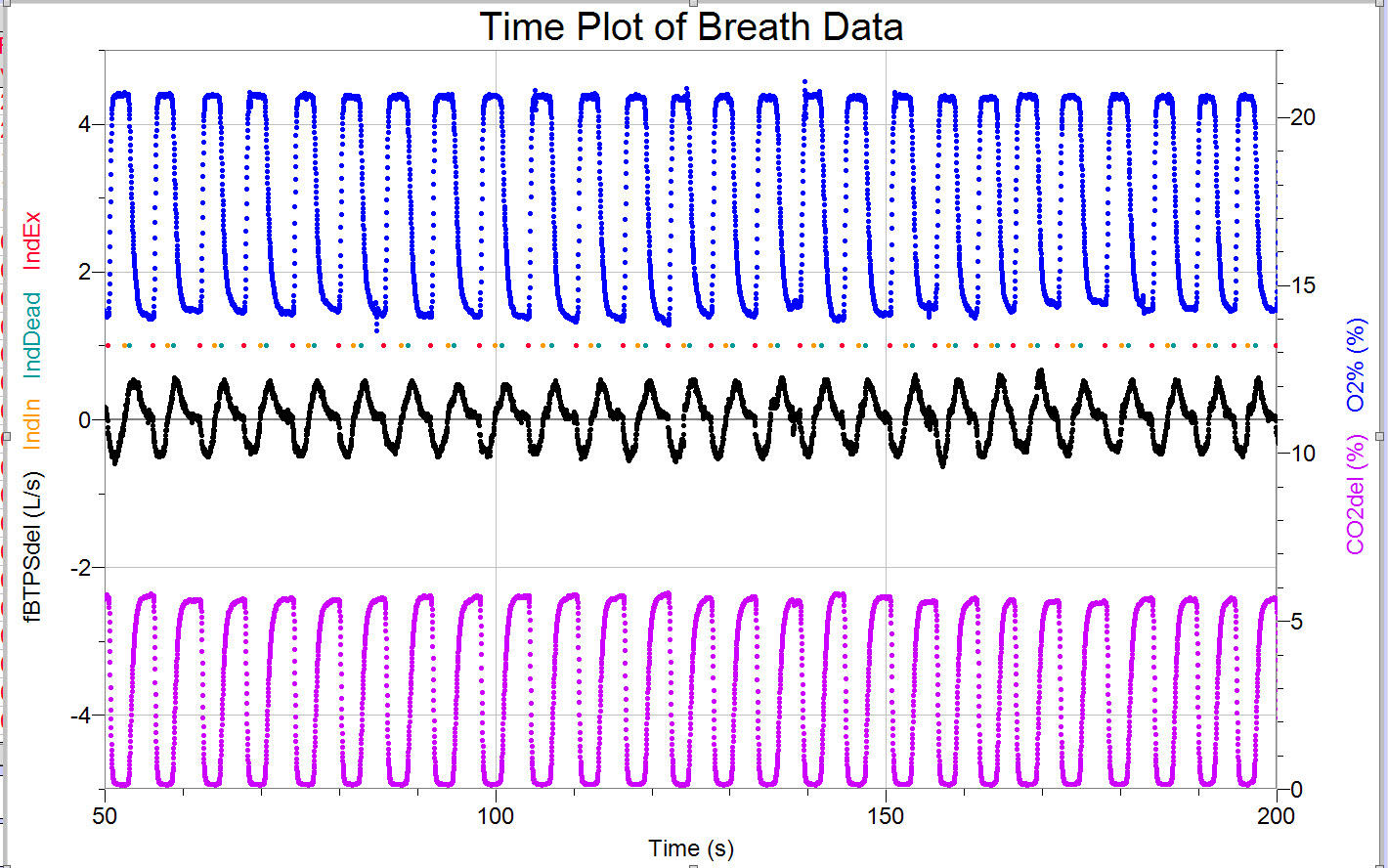 S147 Rapid Response O2/CO2
The S147 Rapid Response O2/CO2 Analyzer combines both a laser diode O2 sensor and an infrared CO2 detector. This flow-through analyzer is designed for measurements of rapid changes in O2 and CO2 such as those occurring during O2 uptake and CO2 production from breath by breath measurements of human respiration.
The S147 Rapid Response O2/CO2 Analyzer has a built in pump which is set at 300 mL/min to draw samples in through the "Gas In" port located on the front of the analyzer. Gases exit the analyzer through the "Sample Vent" on the back panel. Sampling and exhaust gas should be at or near atmospheric pressure to avoid pressurizing the gas sensors. On the front panel there is a "Ptach" input to a differential pressure sensor (pneumotachometer) which can be used for measurements such as breath flow. This differential pressure sensor is open to atmosphere through the "Ptach Vent" on the back panel. There are "Zero" and "Span" controls on the front for calibrating the O2, CO2 and differential pressure sensors . "Span" for CO2 and O2 should only be adjusted if calibration gases are available. The pump speed control is located on the front panel and allows +/- 30ml/min adjustments from the factory setting of 300ml/min.
The back panel of the S147 Rapid Response Analyzer contains the power "on/off" switch, 12VDC, 5.4A jack and three analog outputs 0-5V for CO2, O2 and pressure signals. data collection cables are provided for connection to a data acquisition system. We recommend the C901 LoggerPro data acquisition software for data collection.
Features
Rapid response infra red CO2 sensor (150ms)
Rapid response laser diode O2 sensor (140ms)
Differential pressure sensor included
Easy two point calibration
Built in gas pump for sampling at 300ml/min
500 ml/min flow meter included
Applications
Human Respirometry Measurements
Human Metabolic rate measurements
VO2, VCO2, VO2max, Respiratory Exchange ratio (RER), Resting Metabolic Rate (RMR) measurements
O2 Sensor
| | |
| --- | --- |
| Operating Principle | Infrared Spectroscopy |
| CO2 Range | 0-10% |
| Noise (std. deviation over 10sec) | 0.017% |
| Drift (change in mean over 1hr) | 0.023% |
| Operating Temperature | 5°C to 55°C |
| Power Consumption | 335 mW |
| Response Time: time (10-90%) | 150 ms @ 300ml/min flow |
| warm up time | 5 min |
| Pressure correction | 50 to 118KPa |
CO2 Sensor
| | |
| --- | --- |
| Operating Principle | Laser Diode – Optical Absorption |
| Range | 10% to 22% for breath analysis (other ranges available as an option) |
| Noise (std. deviation over 10 sec) | 0.042% |
| Drift (change in mean over 1 hr) | 0.015% |
| Response time (10-90%) | 140 ms @ 300 mL/min flow |
| Operating Temperature | 0oC to 50oC |
| Relative Humidity | 5 to 95% |
| warm up time | 5 min |
| Pressure correction | 20 to 120 kPa |
Antonis Mistriotisa,Demetrios Briassoulisa, Anastasios Giannoulisa, Salvatore D'Aquino (2016)
Design of biodegradable bio-based equilibrium modified atmosphere packaging (EMAP) for fresh fruits and vegetables by using micro-perforated poly-lactic acid (PLA) films.
Postharvest Biology and Technology, Volume 111, Pages 380–389
Kiseok Sung and Andris Freivalds (2014) Evaluating both Physiological and Biomechanical Strains in Women Using Different Hoe Handle Designs. Proceedings of the Human Factors and Ergonomics Society 58th Annual Meeting, pages 1795-1999