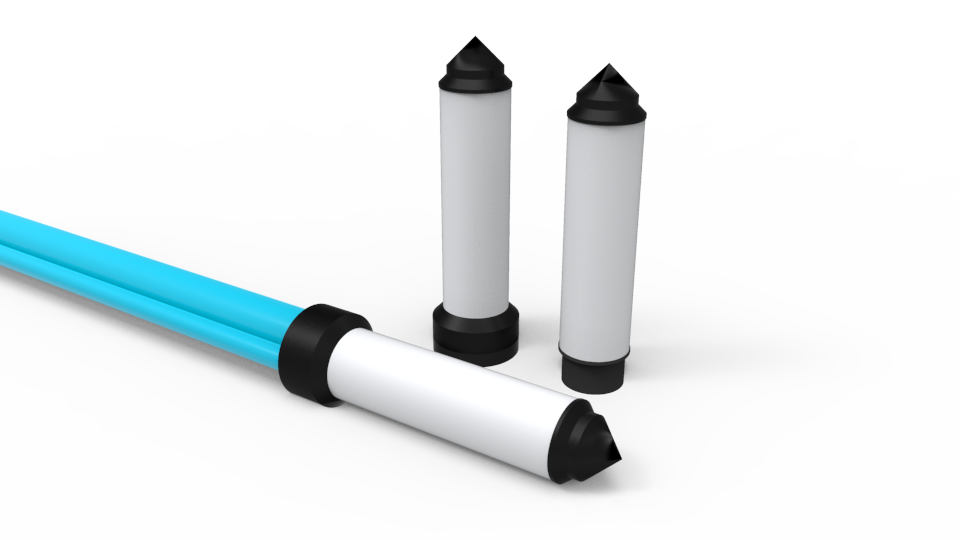 Casagrande And Standpipe Piezometers
Sisgeo Casagrande And Standpipe Piezometers t

o measure the water pressure in permeable soil.

Filter unit is made in syntherised high density polyethylene.

Available in different models to suite all the customer applications.

Filter units have threaded cap joint with two 0.5″ twin tubes or with a 1.5″ single tube.

Standpipe piezometers are used to monitor the ground water table.

The standpipe filter unit consists of a slotted tube covered by geotechnical fabric for filtered water entry.

Stainless steel push-in filter unit is also available for drive-in piezometer installation in soft soils.
| | | | | | |
| --- | --- | --- | --- | --- | --- |
| PRODUCT CODE | NOMINAL oD / PRESS. CLASS | OD / ID | COUPLING OD / THREADING | MATERIAL | LENGTH |
| 0TCH0005000 | ½" / PN 12.5 | 21.1 mm / 15.9 mm | 26 mm / Gas | PVC | 3 m |
| 0TCH0010000 | 1" / PN 12.5 | 33.3 mm / 26.7 mm | 40 mm / Gas | PVC | 3 m |
| 0TCH0015000 | 1 ½" / PN 12.5 | 48.0 mm / 40.0 mm | 55 mm / Gas | PVC | 3 m |
| 0TCH0020000 | 2" / PN 12.5 | 60.0 mm / 51.6 mm | 65 mm / Gas | PVC | 3 m |
| 0TCH0030000 | 3" / PN 12.5 | 89.0 mm / 79.0 mm | 95 mm / Gas | PVC | 3 m |
| | | | | | |
| --- | --- | --- | --- | --- | --- |
| PRODUCT CODE | NOMINAL OD / PRESS. CLASS | OD / ID | COUPLING OD / THREADING | MATERIAL / LENGTH | SLOT / DISTANCE |
| 0TFH0310000 | 1" / PN 12.5 | 33.3 mm / 26.7 mm | 40 mm / Gas | PVC / 3 m | 0.5 mm / 4.5 mm |
| 0TFH0315000 | 1 ½" / PN 12.5 | 48.0 mm / 40.0 mm | 55 mm / Gas | PVC / 3 m | 0.5 mm / 4.5 mm |
| 0TFH0320000 | 2" / PN 12.5 | 60.0 mm / 52 mm | 65 mm / Gas | PVC / 3 m | 0.5 mm / 4.5 mm |
| 0TFH0330000 | 3" / PN 12.5 | 89.0 mm / 80 mm | 94 mm / Gas | PVC / 3 m | 0.5 mm / 4.5 mm |
| | | | | | |
| --- | --- | --- | --- | --- | --- |
| PRODUCT CODE | MODEL | FILTER DIAM. / POROSITY | MATERIAL | LENGth/ OD | TUBE CONNECTION |
| 0P101002000 | P101 | 60 mm / 40 μ | polyethylene | 275 mm / 61.5 mm | 1 x 1 ½" |
| 0P112002000 | P112 | 60 mm / 40 μ | polyethylene | 270 mm / 61.5 mm | 2 x ½" |
| 0P112A02000 | P112A | 60 mm / 40 μ | polyethylene | 285 mm / 80.0 mm | 1 x 1 ½" / 1 x ½" |