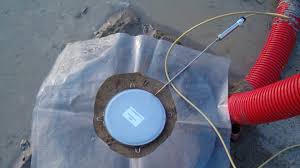 Sisgeo Earth Pressure Cells t

o monitor total pressure in earthfill dams and embankments or placed at the interface between the structure and the wall of excavation.

Constructed from two stainless steel plates, welded together around their pheriphery.

The anular space between these plates is filled under vacuum by deaired oil.

Pressure pad is connected by means of a stainless steel tube to the transducer forming a closed hydraulic system.

An electrical signal proportional to the applied pressure may be remotely read on a variety of portable readout units or dataloggers.
Model
L143 MODEL
L141 MODEL
Description
VW pressure transducer
piezo-resistive pressure transducer
Full scales (FS)

0-350 kPa up to 0-10.0 MPa

0-50 psi up to 0-1450 psi

0-200 kPa up to 0-10.0 MPa

0-29 psi up to 0-1450 psi

Sensitivity
0.03% FS
0.002% FS
Temperature sensor
built-in thermistor
-
Overload
100% FS

30% FS (FS=200 kPa)

100% FS on request)

Pol. MPE (1)

< ±0.25% FS

(< ±0.1% FS on request)

< ±0.20% FS (for 200kPa FS)

< ±0.15% FS (all other FS)

Electrical supply
-
12-40 V DC
Typical frequency range (2)
2250 - 3000 Hz
-
Output signal
frequency
4-20 mA current loop
Operating temperature range
-20°C +80°C
-20°C +80°C
Transducer size

OD 27mm, 180mm long

OD 1", 7.1" long

OD 27mm, 180mm long

OD 1", 7.1" long

Material / weight
stainless steel / 0.6 kg
stainless steel / 0.6 kg
Cables

0WE104K00ZH LSZH cable

0WE104X20ZH LSZH armoured cable

0WE102KEOZH

0WE104X20ZH LSZH armoured cable

Max cable length to logger (3)
1000 m (for more information see FAQ#77)
1000 m (for more information see FAQ#77)
| | |
| --- | --- |
| Material | Stainless steel |
| Total weight | 4.5 Kg (9.9 lbs) |
| Hydraulic line | 6 mm OD (0.25" OD), stainless steel tube |