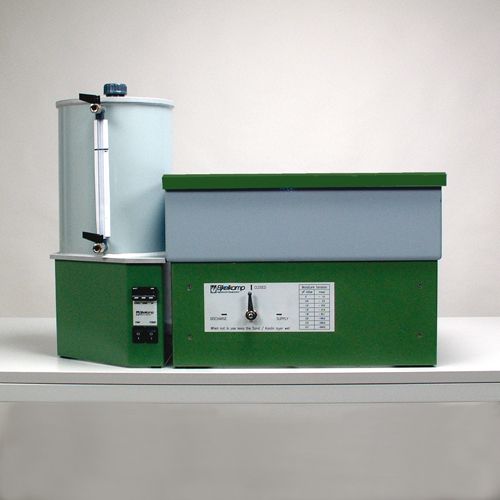 08.02.SA Sand/Kaolin Box For pF-Determination
Sand-/kaolinbox for pF determination (pF 2.0 - 2.7) with an electronically-controlled suction level control system. Standard set for maximal ca. 40 soil sample rings.
The standard set for pF-determinations pF 2.0 - 2.7 (0.1 - 1 bar) consists of a sand/kaolin box with control panel, an electronical suction level control system (pressure range 0 - 600 hPa) with integrated control panel, pressure sensor and 10 l tank, containers with synthetic sand, a container with kaolin clay and various accessories.
Eijkelkamp 08.02.SA Sand/Kaolin Box For pF-Determination suitable for a maximum of 40 soil sample rings.
The pF-determinations are executed on samples in the soil sample rings (100 cc).
A soil sample ring kit must be available also as well as cases with soil sample rings and aluminium soil sample boxes.
A balance and a drying oven are part of the minimum equipment.
The laboratory table should be level and isolated against vibration.
Before the measuring of the pF can be started the various parts must be mounted and the drain must be fitted with a filter cloth.
Next, the sand/kaolin box is filled in the proper manner with water, synthetic sand and kaolin clay (the sand/clay filling should not contain any air or water pockets).
Excess drainage water is removed applying the automatic suction level control system.
The different suction on the samples is realized using the vacuum pump.
For the determination of the complete pF-range (0 - 2.7) the sandbox and the sand/kaolin box can be applied in one single set up next to each other.
A filled box can be used for several years if it is inundated with water after each test.
A copper ring prevents algal growth.
| | |
| --- | --- |
| Maximum number of samples | 40 |
| Measured parameters | pF |
| Measuring range | 2.0 - 2.7 pF |
| Power supply | line voltage |
| Reading accuracy | 0.01 bar |
| Sample specification | undisturbed |
| Sample stored in | ring |
| Package size | 145 x 62 x 52 cm |
| Voltage | 110 - 240 volt |
| Weight | 108 kg |
| Applications | Soil physical laboratory research, pF determination in the lab, Irrigation research |