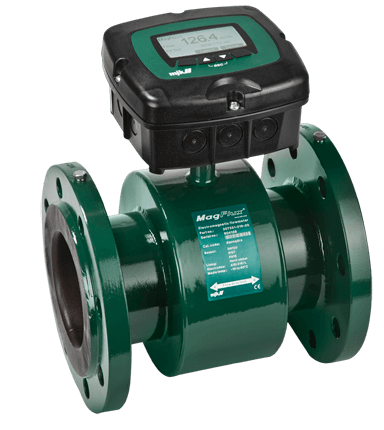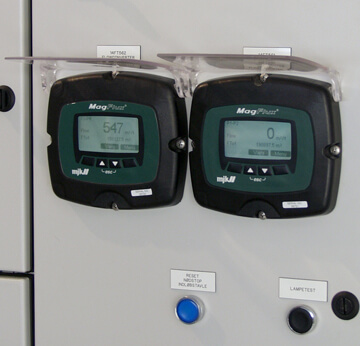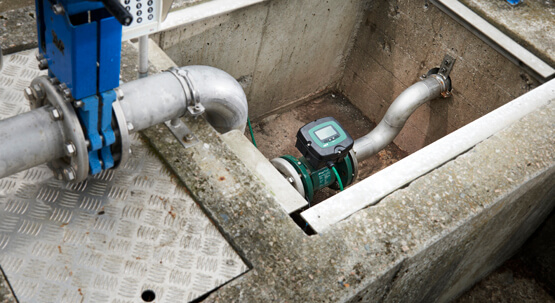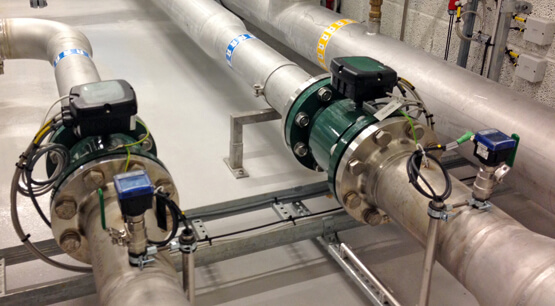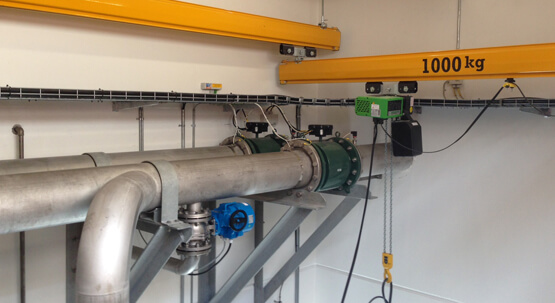 Magflux Electromganetic Flow Meter
MAGFLUX FLOWMETERS ARE DEVELOPED FOR MEASUREMENTS IN ALL TYPES OF CONDUCTIVE LIQUIDS, INCLUDING MEASUREMENT OF FLOW IN DRINKING WATER, WASTE WATER, SLUDGE AND PROCESS WATER.
MagFlux Electromagnetic Flow Meters deliver extremely stable and accurate flow measurements in pressurized closed pipe systems, thereby decreasing water waste and eliminating non-revenue water loss.
MagFlux Electromagnetic Flow Meters for pressurized closed pipe systems.
The modular design is versatile. MJK's sensors and converters cover a broad range of applications and can be combined to meet specific requirements.
Our instruments are designed for flexibility and can be used in many types of flow measuring in conductive liquid applications.
MagFlux Flowmeters, Converters and Displays include a technically advanced enclosure made of, among other things, stainless steel and glass-reinforced poly-carbonate, offering maximum protection against harsh industrial environments.
The multilingual and user-friendly display panel has multiple mounting options and provides all instructions in clear text - no symbols or codes are used. A single display can operate up to four flow converters and sensors.
MagFlux is used to measure all kinds of waste water, from very slurry liquids to outlet water and drinking water.
In many areas, the MagFlux sensors are used to keep track of the amounts of waste water pumped from an urban region to a greater plant. Often seen here are the large DN sizes.
MagFlux is MID certified. This means the flow meter can be used to invoice deliveries to and from clients – or in between plant as the counter cannot be reset.
The hard rubber lining of MagFlux 7200 is working well also with the rugged elements of the waste water as well as a certain amount of chemical. For very corrosive chemicals, use the 7100 PFTE lining.
The output from the converter is RS485, and the converter can be wall mounted up to 1000m from the sensor. This is very common in larger waste water pumping facilities.
One MagFlux Display can handle four converters and sensors.
Display Unit
| | |
| --- | --- |
| Enclosure Rating | Dust- and waterproof IP 67, NEMA 6 (when mounted on Converter) |
| Indication | Indication of flow, flow direction, volume, totalizers, configuration and graph |
| Communication | MODBUS® RTU-mode, 9600 baud, 2-wire RS 485, master-mode |
| Memory | 32Mb Flash Memory, 345.000 entries with date, time and value |
| Interface | USB 1,1 type mini B, Female |
Converter
| | |
| --- | --- |
| Accuracy | +/- 0,1% of reading |
| Measuring Range | Min. range = 0 - 0,2 m/s - Max. range = 0 - 10 m/s |
| Analog Output | One active 4 - 20 mA, galvanically isolated (max. load 800 Ω) |
| Communication | MODBUS® RTU-mode, 9600 baud, 2-wire RS 485, slave-mode |
| Power Supply | 24 V AC, 50 / 60 Hz ± 10 % or 115 V AC, 50 / 60 Hz ± 10 % or 230 V AC, 50 / 60 Hz ± 10 % |
| Enclosure Rating | IP 67, NEMA 6 |
Sensor
| | |
| --- | --- |
| Mounting | Flange EN-1092-1 / ANSI B 16.5 |
| Housing | Carbon steel, stainless steel |
| Flanges | Carbon steel, stainless steel |
| Accuracy | Better than ± 0,25 % |