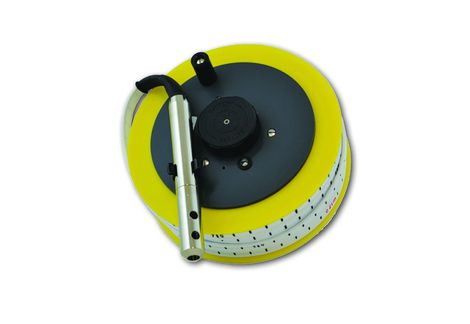 Electric Contact Meter Type KLL-Mini
Mobile Pocket handset to determine the water level to a depth of 15m in monitoring wells from Ø 1"
Optical and acoustic signal upon contact with water
Extensible functionality (basic button, saltwater probe cap etc.)
Small, handy, light:
The KLL-Mini is specifically designed for shallow groundwater monitoring wells with a 10 m or 15m measurement range. It is by no means inferior to its big brothers, neither qualitatively or functionally (KLL, electric water level gauge, KLL-Light), but owing to the compact design, it is much lighter and easier to handle. The KLL-Mini comes standard with visual and audible signal. The two 1.5V batteries power the handset for approximately 250 measurements.
Versatile:
With the help of an additional basic key, the KLL-Mini can also be used for depth sounding. For measuring points with high or very low salinity, special solder compounds are available.
| | |
| --- | --- |
| Measurement Principle | Electric contact |
| Sensor Material | Stainless steel, nickel-plated brass tip |
| Sensor Protection Class | IP 68 |
| Cable Drum | Flexible, temperature-resistant plastic |
| Cable Drum Protection Class | IP 54 |
| Cable Lengths | 10m, 15m |
| Material | 2-core flat cable, polyethylene with stainless steel braids and a copper core |
| Scaling | black cm-division, dm-numbering, red meter figures |
| Accuracy | <1 cm |
| Power Supply | 2 x 1.5V alkaline manganese batteries |